FEATURES
• Low substrate heat
• Lower power consumption
• High peak power - deep penetration
• Modular - ease of installation
• Many options - ease of matching application
• Lamp instant ON/OFF - no warm-up time
• High throughput with ultra short cures
• Single and dual lamp configurations
APPLICATIONS
• Optical discs- bonding & lacquer curing
• Medical device manufacturing
• Plastic - bonding without damage
• Pharmaceutical packaging
• Rapid low heat curing - adhesives, coatings, inks and paints
GENERAL DESCRIPTION
Models RC-801 and RC-802 pulsed Ultraviolet (UV) light curing systems are modular, high intensity light sources designed for a wide range of tough industrial curing applications that can not be solved with mercury UV systems. Featuring high intensity pulsed UV light lamps (mercury free) with single or dual lamp operation, a high speed controller with instant on/off control, and a high voltage power supply. Pulsed UV light is a safe, environmentally benign and flexible technology that can be applied in continuous and batch curing applications. RC-801 and RC-802 offer solutions for demanding inline curing applications when low heat and fast throughput are required. These modular systems are designed to function as part of an integrated manufacturing system and provide controlled high peak power pulsed UV light. System interfacing is handled with low voltage I/O using a Programmable Logic Controller (PLC).
ROBUST DESIGN
RC-801 and RC-802 are designed for demanding inline process systems that must operate continuously (24/7), producing high yields and minimum downtime. Incorporating an optically isolated I/O interface, high noise immunity 24Vdc logic, extended life components, reliable lamp trigger control
and power-on delay, avoiding high voltage damage due to line surges, the RC-800 series offer long-term reliable operation. To minimize downtime during routine maintenance periods, critical components such as the lamp housing optical reflector and lamp are easily replaced by plant personnel.
PROCESS FLEXIBILITY
RC-801 and RC-802 are highly flexible, robust, modular curing systems capable of configurations matching different curing requirements. To ease integration, system configuration options include single or dual lamp operation, lamp housing, lamp spectra, high voltage power supply, lamp pulse energy, lamp pulse rate, light blocking filter, and various lamp housing cable lengths. Installation requirements are minimized because there are no requirements for external water cooling equipment, mechanical shutters or motors to rotate the substrate during the curing cycle. Only air cooling to the lamp housing is required.
DUAL LAMP CONFIGURATION
Model RC-802 adds dual lamp operation to the benefits of fast pulsed UV light curing technology. Each lamp is individually sequenced by the controller's high speed logic. In applications such as optical disc bonding, multiple lamp operation with a single electronics control unit and a single power supply, offers tilt management during batch processing. Additionally, multiple lamps offer top-down, bottom-up or both curing configurations resulting in higher throughput with low substrate temperature. The individual lamps respond automatically to the programmed trigger pulses and deliver the full energy with each pulse.
INTERWEAVE™ TECHNOLOGY
The RC-800 InterWeave™ controller is designed to operate a dual lamp RC-802 system in a predetermined sequenced flashing mode. Both the lamps are flashed at the full programmed frequency, delivering full power to each lamp from a single power supply.
LAMP HOUSING OPTIONS
Five application-specific Lamp Housings are available for use with either the RC-801 or RC-802. Model LH-810 offers a spiral lamp designed to match the optical requirements of DVDs, Blu ray Disc™, HD Disc and CDs as well as provide oxygen inhibition for edge curing. Model LH-820 offers a unique U-shape lamp with an effective 22" arc length, producing a 10" x 3" cure area. Application examples are with UV-ink for rapid curing of printing as well as curing heat sensitive containers used with pharmaceutical products.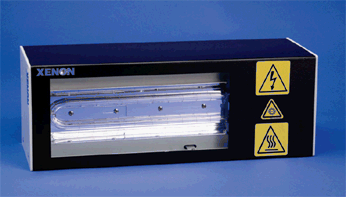 Models LH-820 & LH-830 Lamp Housings
Model LH-830 also offers a U-shape lamp with an effective arc length of 26", producing a 12" x 3" cure areas. Model LH-840 offers a linear lamp producing a 16" x 1" cure area. Model LH-850 offers a linear lamp producing a 20" x 1" or 20" x 2" cure area.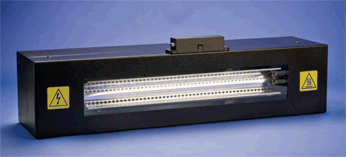 Models LH-840 & LH-850 Lamp Housings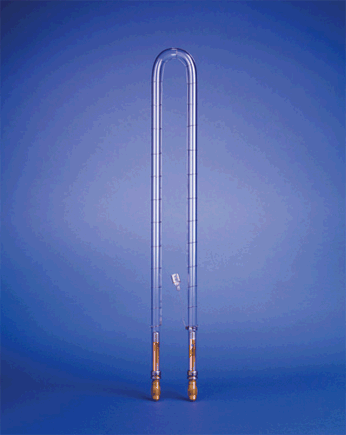 10" and 12" U-Shape Lamps
LITEMARK-XL
The LiteMark-XL Pulsed UV Detection System is an add-on module for Xenon's lamp housings. This module allows real-time performance monitoring of radiant energy from a Xenon Pulse UV Lamp system, making it easy for the user to obtain instantaneous data for process monitoring and control.
DATA LOGGER
To continually monitor the Pulse UV Lamp process, the LiteMark-XL may be ordered with a Data Logger system. This system provides both the hardware to connect the LiteMark-XL to a computer, as well as software programs to display and record light intensity data. The system operator can observe the data on a computer monitor as either tabulated data or as a graph.
REDUCED CURE TIME
Cure time is directly related to the total UV energy dose delivered by the lamp to the target. Tests have shown there is an optimum total energy required to insure complete cures without substrate damage. To reduce the cure time, while providing the required energy dose, models RC-801 and RC-802 are available with lamp pulse rate options. Also available are high voltage power supply options capable of providing the required energy for each option.
BURST MODE OPERATION
The instant ON/OFF control of the pulsed UV lamp provides the means to operate in a burst mode as illustrated in Figure 2. This operation matches typical start-stop-start manufacturing. The user can typically program the lamp duty cycle from 1 pulse to 100%. Maximum duty cycle is dependent upon the pulse energy selected.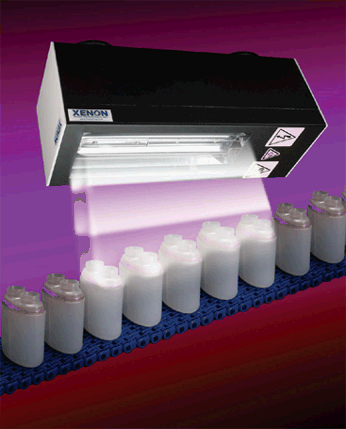 Example of RC-801 System used in batch or index operation to bond top and bottom plastic containers.
REDUCED ENERGY CONSUMPTION
In typical start-stop-start manufacturing operations, the pulsed UV lamp will be operated at a duty cycle that is typically 50% or less. The result is a significant reduction in system energy use, as compared to mercury UV systems. This energy reduction results because lamp energy is not required during the lamp OFF period. For example, the RC-801 and RC-802 systems typically use only 150 watts during the lamp OFF time. In mercury lamp UV systems the lamp must be ON at all times due to a long warm up period prior to use.
RC-847
Model RC-847 offers quick setup and easy hands-on operation in a lab or inline process. It provides everything you need in an easy-to-use cabinet that incorporates a controller, high voltage power supply and timer unit with convenient front-panel operator controls. Also included are circuit protection and AC
power distribution wiring to run a full system with lamp housings and lamp blowers. The RC-847 may be configured with high voltage power supply options. The RC-847 is available with any single-lamp or dual-lamp housing configuration as well as InterWeave™ operation.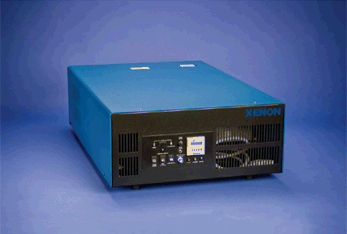 Model RC-847 Cabinet with Controller,
Power Supply and Timer Control installed
TIMER CONTROL MODULE
The Timer Control Module can be used to operate a single lamp RC-801, a two lamp RC-802 or an RC-802 Interweave system. This module provides for two modes of operation, Manual and Timed. Manual mode is used to turn the lamp ON and OFF by simple switch commands. The Timed mode is used to automatically toggle the lamp ON and OFF. In the Timed mode, the lamp's on-time can be selected by the operator.
SWITCH CONTROL MODULE
The Switch Control box is designed to provide the operator with manual control of a single lamp RC-801, dual lamp RC-802 or an RC-802 Interweave Pulse UV Lamp system.
ENVIRONMENTAL and SAFETY FEATURES
The high energy pulsed UV light is environmentally benign since it does not create or use volatile organic compounds (VOCs) or create suspended airborne particulates. Xenon lamps do not generate microwave RF radiation or contain toxic
materials, such as mercury, and therefore do not expose personnel to the potential hazards due to mercury lamp breakage.
LAMP SPECTRA
The Xenon lamp inherently produces a broadband spectrum suitable for formulations that absorb UV light from 180 nm to 800 nm. Lamps are available with up to four different spectral cut-offs, producing unique wavelength properties suitable for specific types of curing challenges. Effective lamp spectral cut-off wavelengths are listed below:
Type A Lamp: 370 nm - Best for visible light cures. No ozone generated.
Type B Lamp: 240 nm - Offers optimum UV performance. No ozone generated.
Type C Lamp: 190 nm - Cuts off deeper UV. Ozone generated.
Type D Lamp 160 nm - Allows deep UV. Ozone generated.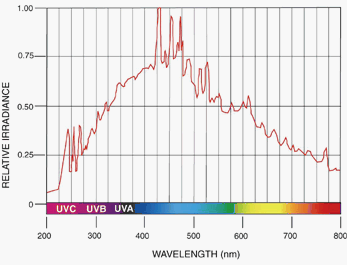 Typical spectrum for Type C lamp
PHOTOINITIATOR MATCH
To achieve optimum UV curing, the spectral output of the pulsed UV lamp must be matched to the absorbance characteristics of the photoinitiator used in the adhesive, ink or coating formulation. This is due to the different absorption characteristics of photoinitiators and the broadband radiation characteristics of a pulsed UV lamp source. Contact the Xenon Applications staff for assistance when preparing formulations.